For around a year now I have sworn by Tom Ford's grooming range, using multiple products on a daily basis. However, recently I found that for some reason my skin had changed and the products were leaving me feeling like a total oil slick - it was time for a change.
I put out a call on Twitter for suggestions and you guys came through! My mate, and fellow blogger Robbie suggested I gave Kiehl's a try, after hearing him rave about them I thought it was time to give them a go and see how they work for me. I believe if you go into a Kiehl's store you can get a full consultation in which they tell you what products you should use for your skin type. Sadly we don't have a Kiehl's anywhere near where I live, so I thought I'd risk it and give a few products a try, I picked them all up from House of Fraser. I obviously love them, which is why I thought I would let you know which products I have been using over the past few weeks. Here's how my current skincare routine stands…
The first step goes one of two ways, either wash or scrub. Every other day I use a scub on my face to give it just a bit of a deeper clean, the rest of the week I use a daily wash. Currently the scrub I am using is the Kiehl's Exfoliating Cleanser, it's from their Age Defence range and gives you a 'refreshed and younger looking appearance' so I must look about 3 months old once I've used it. The wash I am using is from their Facial Fuel range - the Energising Face Wash is a gel cleanser that I tend to use in the mornings. It leaves you feeling fresh and ready to start the day, it also smells pretty good too!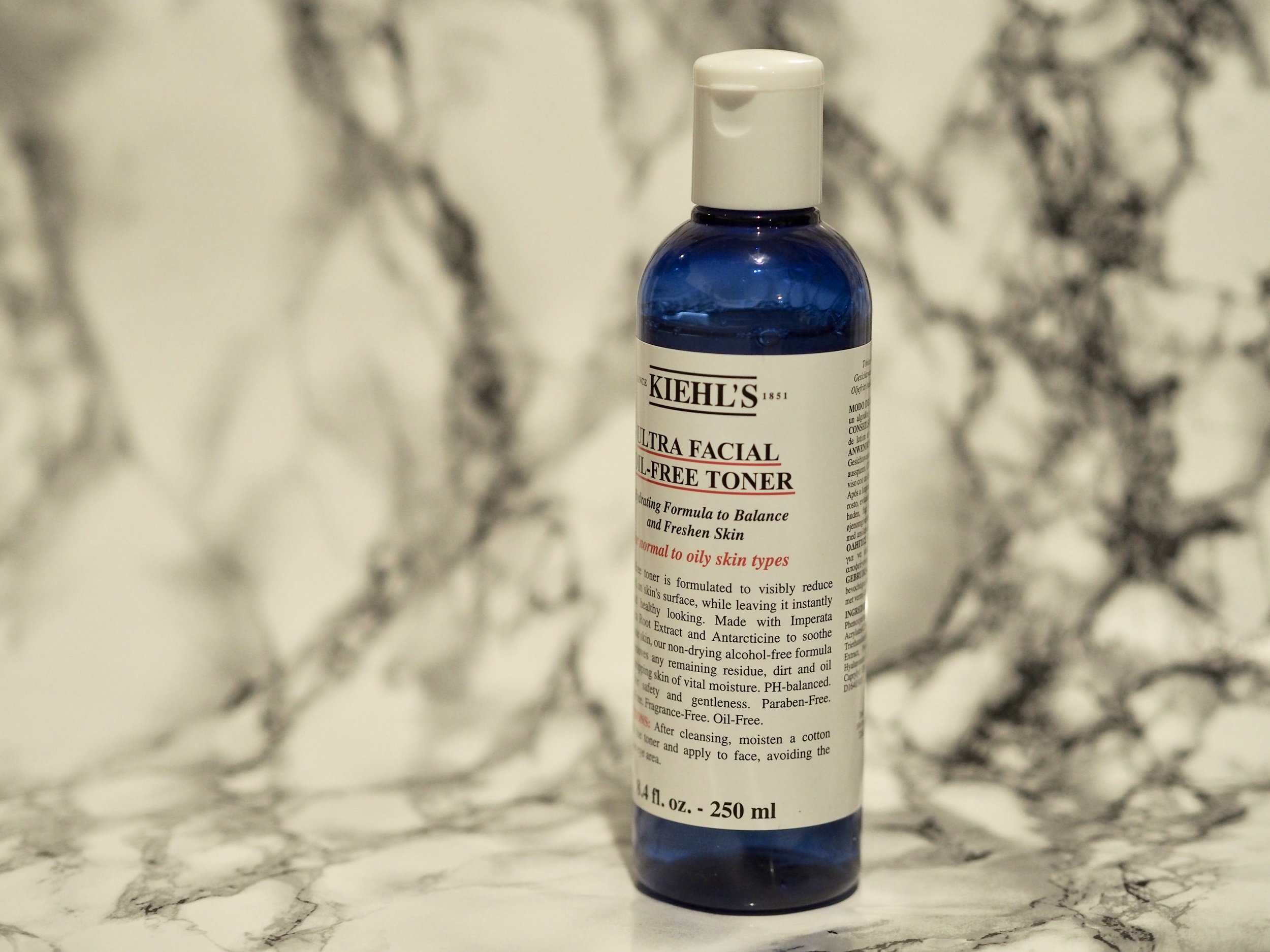 After cleansing my face, I then use toner - currently I am using the Ultra Facial Oil-Free Toner. I decided to choose the oil-free one as I have quite combination skin, so I didn't want to end up with a mirror-like forehead from the oil. I've been really impressed with it, it leaves my face feeling tight and fresh.
Once the toner has dried nicely on my face I use the Eye Alert cream. it's a really nice thick gel that helps to reduce puffiness and dark circles - it's super refreshing, but I tend to only really use it in the mornings as I find it helps to wake me up a bit easier (only a bit). I also use the Facial Fuel No-Shine Lip Balm - it's great for keeping your lips from drying out, but also won't make it look like you've put lip gloss on, it's also got a super fresh mint flavour.
The final step of my daily routine is the super-famous Ultra Facial Cream - it now comes with Factor 30 which is massively important to wear on your face every day, and is a nice thick day cream moisturiser. I think most people that use Kiehl's use the Ultra Facial Cream, it's a 24-hour moisturiser that doesn't sit heavy on the skin at all, I would highly recommend it!
So far I am loving the Kiehl's products, they work a treat on my skin and don't cost a tonne either. Big thanks to Robbie and everyone else that recommended I check out the Kiehl's brand, if you haven't already I would highly suggest checking them out!